Urgent care / After Hours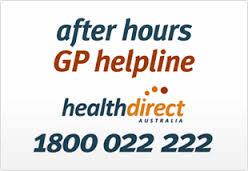 The Ararat Medical Centre General Practitioners maintain an after hours roster for urgent problems. This covers after hours and all public holidays.

Telephone the Ararat Medical Centre on 5352 2311 and follow the instructions. It is important to phone first as many problems can be assisted by advice and do not need to be seen immediately.
The Ararat Medical Centre participates in the after hours triage service provided by Health Direct Australia. After-Hours calls are diverted to this service. All calls are initially handled by a specially trained triage clinician.
If you have difficulty in getting through on the after-hours number, you can also call this service direct by calling the
After Hours GP Helpline on 1800 022 222.
Patients with serious problems e.g. a broken limb or chest pain (of any cause) should go directly to the Urgent Care Centre at the East Grampians Health Service (hospital) or call an ambulance (000).
Patients needing attention after 5:30pm weekdays or 12 noon Saturdays are usually seen in the East Grampians Health Service (Ararat & District Hospital) Urgent Care Centre.
On Saturday mornings the Medical Centre operates a clinic from the East Grampians Health Service (Ararat & District Hospital) Urgent Care Centre with two doctors available for urgent appointments from 10am to 12pm.
During the remainder of the weekend the Duty Doctor will attend the hospital for semi-urgent problems on Saturday at 4.30pm and Sunday at 10.00am and 4.30 pm. (These times also relate to public holidays.).
PLEASE NOTE: A private fee is payable for all services provided after hours. These are not normally discounted, however, during the clinic hours above, the fee is considerably less than for an individual call out for the doctor.
Medicare does not pay an after hours loading for the majority of after hours services provided by the medical staff. Please refer to our fee schedule for the out of pocket costs.
Ararat Medical Centre
55 High Street, Ararat 3377
Victoria, Australia
Telephone 03 5352 2311
Fax 03 5352 3254
Website www.araratmedicalcentre.com.au